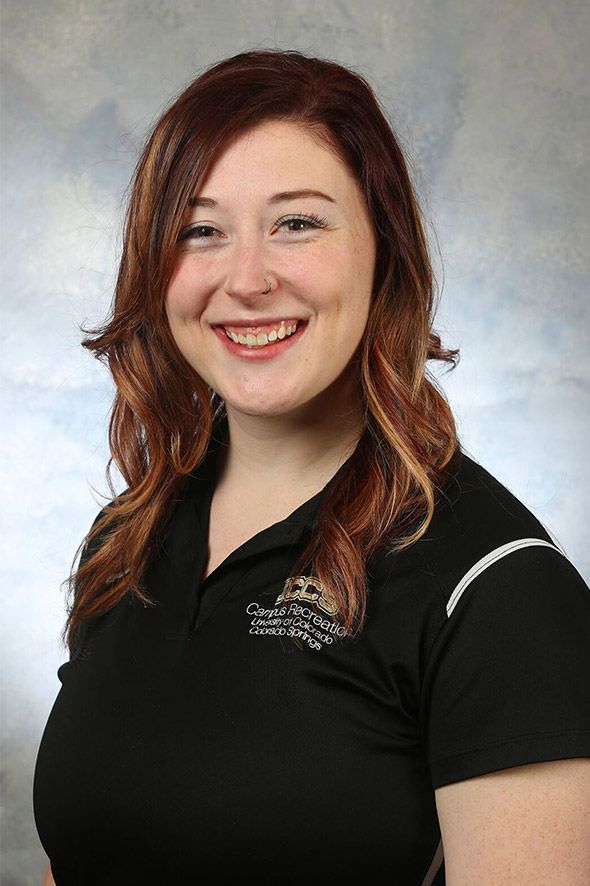 Assistant Director of Business Operations
UCCS Campus Recreation
Gallogly Recreation & Wellness Center
1420 Austin Bluffs Parkway
Colorado Springs, CO 80918
Job Responsibilities
Manage the Campus Recreation membership program, oversee the Campus Recreation Student Marketing Team, and manage all internal and external communications for the Campus Recreation department.
I can help you with
General Campus Recreation information, digital marketing, social media strategy, event planning/coordination, SEO (search engine optimization), website maintenance and management, graphic design, student learning outcomes, obtaining your CPR certification, and finding good music to workout or dance your workday away with.
Hobbies
I love spending time at home with my husband, son, and fur children, Jayue (90lbs lab mix) and Mayzlie (50lbs mutt), and going out of my way to cross the street to pet your dog (with your permission). Growing up I was a figure skater, synchronized swimmer, and speed swimmer, but these days I am enjoying finding movement for my body that feels good and is much less competitive. I feel most like my true self when I am wearing the mic as an instructor at our local Barre3 Colorado Springs studio. You can also find me baking and decorating sugar cookies on the weekends. My mom passed along her love for hockey to me - I am an Avalanche fan and you can find me at many games or yelling at the refs on the TV from my couch at home.
In short: Family, Dogs, Cookies, Barre3, and Hockey
Education
M.A. Leadership | December 2019 | University of Colorado Colorado Springs

Student Affairs in Higher Education

B.A. Communication | May 2013 | University of Colorado Colorado Springs

Organizational and Strategic Communication

Social Media Strategy & Event Planning