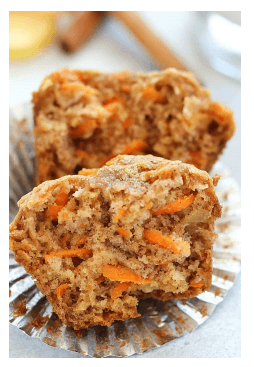 Carrot and Apple Muffin - Download Recipe
Ingredients:
Makes about 12 muffins
2 cups whole wheat flour
1½ cup old-fashioned oats
2 teaspoon cinnamon
1 teaspoon baking soda
½ teaspoon fine sea salt
½ cup chocolate chips (optional)
3 eggs
1 cup grated apple (about 1 apple)
1 cup grated carrots
6 tablespoon coconut oil
½ cup honey
Directions:
Preheat the oven to 350F. Line a 12-cup standard muffin tin with paper muffin cups
In a large bowl, combine the flour, oats, cinnamon, baking soda, salt, and chocolate chips (if using).
In a separate bowl, whisk together the eggs, apple, carrots, melted coconut oil, and honey. Add to the dry ingredients, mixing until just combined.
Spoon the batter into the muffin cups, filling each to the brim. Bake until the muffins are nicely browned on top and a knife inserted in the center of a muffin comes out clean. About 25 to 30 minutes. Allow muffins to cool completely.
Interested in learning more about nutrition and health? Call the Wellness Center at 719-255-4444 and schedule an appointment with one of our dietitians.