Allergen Free Black Bean Brownies (V, GF)
Allergen Free Black Bean Brownies (V, GF)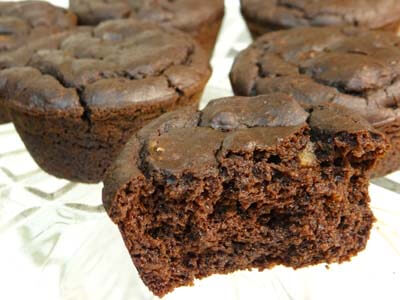 Allergen Free Black Bean Brownies adapted from Carla's Gluten Free Recipe Box - Download Recipe
Cooking Time: 30 mins Serving Size: 1 brownie Serves: 12
Calories: 240 Fat: 15g Carbohydrate: 28g Protein: 4g

Ingredients:
3/4 cup local honey
3 TBS flax seed meal
15 oz can refried black beans
1/2 cup vegetable oil
2 tsp apple cider vinegar
2/3 cup gluten free cocoa powder
1/3 cup buckwheat powder
3/4 tsp baking soda
1/4 tsp salt
Optional: 2/3 cup chopped walnuts

Directions:
Preheat oven to 350º. Oil a 12-cup muffin pan and set aside. Heat
honey in the microwave for about 40 seconds. Stir in the flax seed
meal and allow to rest for 15 minutes. Pour into food processor.
Add beans, oil, and vinegar and pulse in the blender/food processor
until completely combined.
In a separate bowl, whisk the cocoa powder, flour, baking soda,and
salt. Add to food processor. Pulse until creamy. Fold in walnuts.
Scoop into muffin tins, filling about 3/4 way. Bake on center shelf for
23-25 minutes. Allow to cool for 10 minutes. Transfer to wire rack to
cool completely.