Sweet potato toast: Veg/Vegan, GF
Sweet potato toast: Veg/Vegan, GF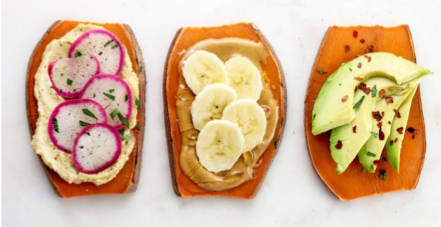 Sweet Potato Toast - Download Recipe
Ingredients:
Makes 3 servings
Directions:
Preheat the oven to 400°F and line a baking sheet with parchment paper.
Slice the ends of the sweet potato off, then cut in lengthwise into 1⁄2 inch thick slices. Arrange the slices in a single layer on the baking sheet.
Bake until the slices are tender and easily pierced with a fork, about 20 minutes. Serve warm with your favorite toast toppings.
Store any leftover sweet potato slices in an airtight container in the fridge for up to weak. To reheat, simply pop them in the toaster!
Interested in learning more about nutrition and health? Call the Wellness Center at 255-4444 and schedule an appointment one of our dietitians, Alyssa Shrader, Merri Metcalfe or Yuka Sanui.