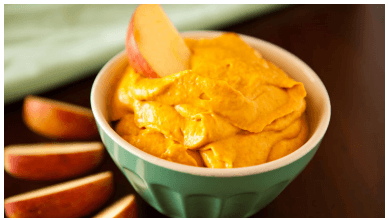 Power Pumpkin Spice Dip - Download Recipe
Ingredients:
Serving Size: 3/4 cup 225 Calories
CHO 43g, Fat 1.5g, Protein 10g, Fiber 5.2g
1 cup pumpkin puree
¾ cup vanilla Greek yogurt
½ tsp pumpkin pie spice
Tip: You can add/replace with other flavors of yogurt like honey or pumpkin. You can also use ½ tsp cinnamon, ¼ tsp nutmeg, ¼ tsp ginger if you do not have pumpkin pie spice. Add coconut, chocolate chips, or pumpkin seeds for an added crunch.
For added protein use your favorite protein powder!
Directions:
Slice up apples as set aside
Combined all items in a mixing bowl
Enjoy dip with apples!
You can also use gram crackers or pretzels for alternative dipping!
Interested in learning more about nutrition and health? Call the Wellness Center at 719-255-4444 and schedule an appointment with one of our dietitians.