Mayo-Free Chicken Salad with Nuts & Grapes (GF)
Mayo-Free Chicken Salad with Nuts & Grapes (GF)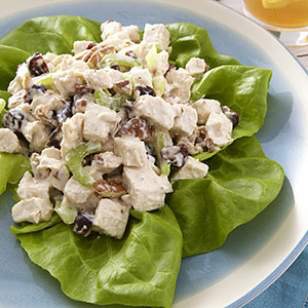 Chicken Salad made with Greek Yogurt (GF) - Download Recipe
Cooking Time: 25 mins Serves: 6
Calories: 189 Fat: 13g Carbohydrate: 4g Protein: 37g
Ingredients:
1 lb grilled chicken
1/4 tsp ground pepper
1/2 cup thin sliced celery
1/2 cup sliced almonds
1/2 cup grapes, cut in half or quarters
1/2 cup plain 2% greek yogurt
1/2 tsp curry powder
2 tsp soy sauce
squeeze of lemon juice
salt to taste
1 head butterhead lettuce
Directions:
Combine chicken, pepper, celery, almonds, and grapes in a bowl. Mix dressing ingredients and pour over chicken mixture to coat. Serve on top of a bed of butterhead lettuce with some whole grain or GF crackers/pita.