Caprese Stuffed Avocados, (Veg, GF)
Caprese Stuffed Avocados, (Veg, GF)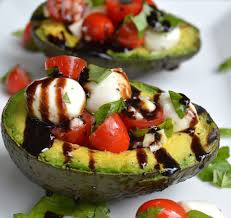 Caprese Stuffed Avocados - Download Recipe
Avocados stuffed with fresh tomatoes and mozzarella tossed in basil pesto and finished with a drizzle of balsamic vinegar.
Ingredients:
Makes 4 servings
2 avocados, cut in half, stone and skins removed

1 cup salad greens

1 cup tomato, diced

½ cup fresh mozzarella, diced

2 tbsp basil pesto

2 tbsp balsamic vinegar
Nutritional info (per serving): Calories: 257, Fat: 22g, Protein: 6.5g, Carbohydrate: 11g, Fiber: 8g, Sodium: 96mg
Directions:
To make the balsamic reduction, simmer balsamic vinegar until it reduces to ½ to ¼ or the desired thickness and let it cool before using.

Plate the avocado on the salad greens and top with the mixture of the tomato, mozzarella and pesto followed by a drizzle of the balsamic reduction.

Enjoy!