PB and Banana Overnight Oats
PB and Banana Overnight Oats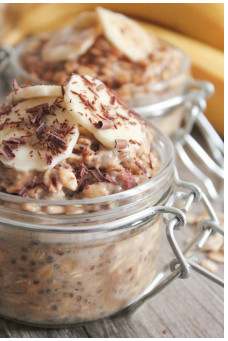 Peanut Butter and Banana Overnight Oats (Veg, GF if made with GF oats) - Download Recipe
Ingredients:
Makes 2 servings
1 large ripe banana, mashed (about ½ cup)
¼ cup creamy peanut butter
1 cup old fashioned rolled oats
1 cup milk of your choice
1 tbsp chia seeds
½ tsp vanilla extract
½ tsp ground cinnamon
1 tsp agave or honey or any sweetener of your choice
Optional toppings: bananas, maple syrup, dark chocolate shavings or chips, coconut shavings
Directions:
In a medium bowl, mash your banana with a fork
Add the remaining ingredients to the bowl and mix until well combined
Carefully fold the egg whites into the pancake batter, until just incorporated, making sure not to deflate the batter.
Pour the mixture into two airtight containers and refrigerate for at least 3 hours or overnight.
When ready to eat, give the oats a good stir, add toppings of your choice, and enjoy!