No-bake Granola (Veg, GF)
No-bake Granola (Veg, GF)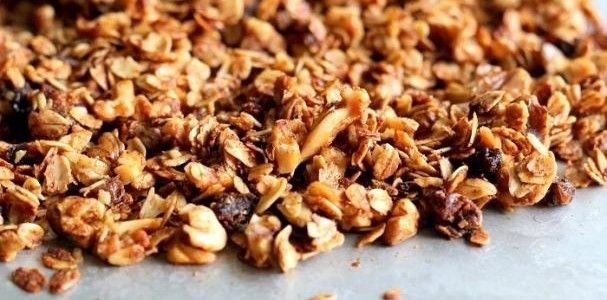 Homemade No-Bake Granola Recipe (GF) - Download Recipe
Cooking Time: 15 mins Serving Size: 1/2 cup Serves: 8
Calories: 316 Fat: 18g Carbohydrate: 35g Protein: 8g
Ingredients:
1/2 cup uncooked quinoa
2 cups rolled oats
1/2 cup unsweetened dried fruit
1/2 cup pepitas
1/2 cup raw almonds or sliced almonds
1/4 cup shredded unsweetened coconut
2 TBS local honey
1/4 cup coconut oil
Directions:
Pour quinoa into a large skillet over medium heat. Stir occasionally until they begin to pop. Pour into large mixing bowl. Add rolled oats and almonds to the skillet, stir occasionally until fragrant and starting to brown. Add in the dried fruit and continue to stir. Pour this mixture into the bowl with quinoa and mix it up.
Add honey and coconut oil to the pan. May need to add a little more as needed. Once honey/oil mixture has been bubbling for about a minute or so, pour the granola mixture into the pan. Stir so everything is coated with the oil.
Pour onto a sheet of foil to harden or a baking pan. Flatten and wait ten minutes.
Serve on top of yogurt and seasonal fresh or frozen fruit for a delicious breakfast or snack.