The Flying Carrot's Summer Quesadilla (V, GF)
The Flying Carrot's Summer Quesadilla (V, GF)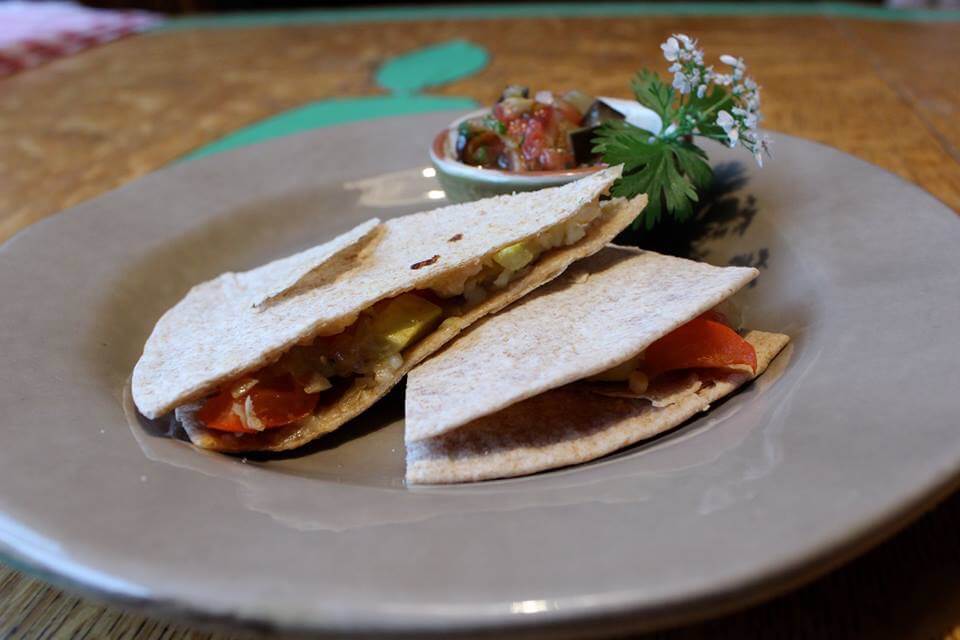 The Flying Carrot's Summer Quesadilla - Download Recipe
Cooking Time: 10 mins Serving Size: 1 quesadilla Serves: 3-4
Ingredients:
1 medium summer squash
1 small onion
1 bell pepper
2 cloves minced garlic
1/2 can black beans (mash a little with fork)
4 tortillas (use corn tortillas for GF)
1/4 cup shredded cheese
1 TBS olive oil
1/2 tsp cumin
pinch of salt
Directions:
Thoroughly wash vegetables and chop into 1/2 inch cubes. In a frying pan, heat oil over medium heat. Add onions and cook until the onions turn semi-translucent (2-3 mins). Add garlic and the rest of the vegetables. Add cumin and salt. Cook 3 minutes. Once fully cooked, removed from heat and set aside and mix with the black beans. Warm a tortilla on the frying pan over medium-low heat.
Place 1/4 cup filling in the tortilla. Sprinkle shredded cheese on top. Fold in half and warm on skillet until cheese melts and tortilla is crispy. Serve with Flying Carrot's eggplant salsa.