Summer Peach Salad with Mint Vinaigrette
Summer Peach Salad with Mint Vinaigrette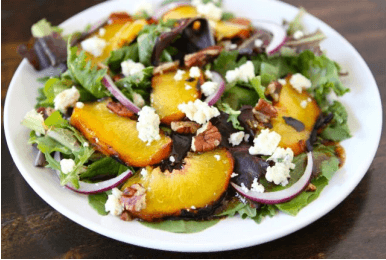 Summer Peach Salad with Mint Vinaigrette - Download Recipe
Ingredients:
Serves 6
¾ cup quinoa, dry
3 medium peaches
2 English cucumbers
½ medium red onion
10 oz spring mix
3 oz crumbled feta
1/3 cup fresh lemon juice
1 tbsp Dijon mustard
1 tbsp honey
1 garlic clove, minced
1/3 cup fresh mint
1/3 cup extra virgin olive oil
Salt and pepper, to taste
Directions:
Rinse and cook quinoa according to the package.
Cut the peaches in slices. Dice cucumbers. Dice red onion. Set aside.
De-stem and chop the mint. Peel and mince garlic.
In a small bowl, combine Dijon mustard, honey, garlic clove, mint, olive oil, and salt and pepper. You may use a blender for this process. Set aside.
In a large bowl, toss together spring mix, peaches, cucumbers, red onion, quinoa, and the dressing.
Crumble feta over the top. Drizzle with more olive oil and a few grinds of black pepper. Enjoy!
Interested in learning more about nutrition and health? Call the Wellness Center at 719-255-4444 and schedule an appointment with one of our dietitians.