Greek Millet Salad (V, GF)
Greek Millet Salad (V, GF)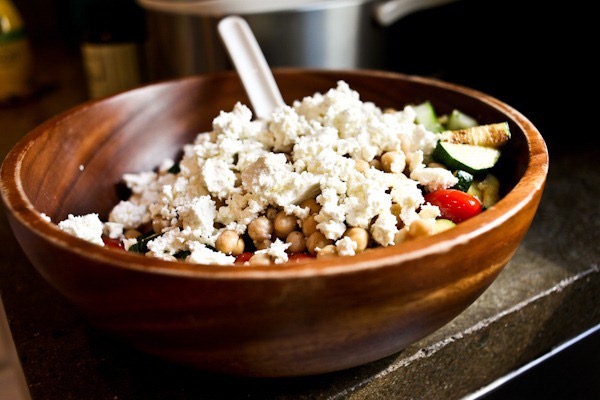 Greek Millet Salad (GF, V) - Download Recipe
Cooking Time: 30 mins Serving Size: 1/2 cup salad Serves: 8
Calories: 232 Fat: 8g Carbohydrate:32g Protein:9g
Ingredients:
1 cup dry millet (a GF grain made from corn)
2 cups water
2 medium zucchini, chopped
1 pint cherry tomatoes
10 olives, pitted and chopped
1 can garbanzo beans, drained
4 oz feta cheese
1.5 TBS olive oil
1 TBS lemon juice
1/2 tsp salt
1/4 tsp black pepper
Directions:
In pot, toast the raw millet over medium heat for 4-5 minutes without oil until you hear popping. Don't let them burn. Add the water the same pot, bring to a boil and give it a nice stir. Lower the heat and simmer with a lid until the grains absorb most of the water, about 15 minutes Remove pot from the heat and let stand covered for about 10 minutes. Cook zucchini and tomatoes in 1 tsp olive oil in a skillet until tender and add to millet. Stir in the rest of the ingredients. Keep in refrigerator and top with the feta cheese before serving.