Blue Cheese and Apple Flatbread (Veg)
Blue Cheese and Apple Flatbread (Veg)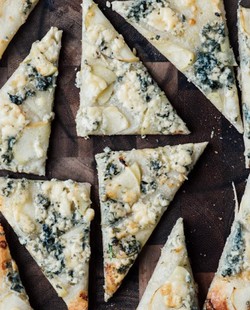 3 Ingredient Blue Cheese and Apple Flatbread - Download Recipe
Ingredients:
Makes 6 servings:
1 lb pizza dough

1 medium apple, thinly sliced

8 oz crumbled blue cheese
Nutritional info (per serving): Calories: 306, Fat: 13g, Protein: 13g, Carbohydrate: 35g, Fiber: 2g, Potassium: 125mg, Sodium: 906mg
Directions:
Roll out a pizza dough onto a large sheet tray lined with parchment.

Top dough with thinly sliced apple and crumbled blue cheese

Bake at 400°F oven until crust is cooked and golden brown around the edges and cheese is melted, about 15 minutes.

Cool slightly before slicing and serving.
Retrieved from: here