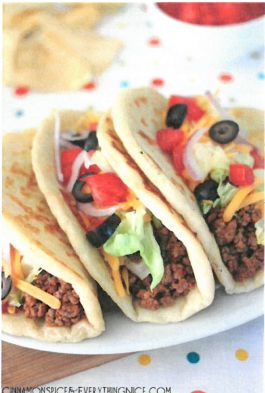 Turkey Tacos - Download Recipe
Ingredients:
Serves 2
1 cup Rice
1 cup Beans
1 cup Ground Turkey
1 packet Taco seasoning
1/8 cup Lettuce
1/8 cup Tomato
1/4 cup cooked onion
2 tbsp black olives
1 tbsp Yogurt cilantro lime
1/8 avocado
1 tbsp Salsa
3 Flour tortillas
1 tbsp Cilantro
3 tbsp cheese
Directions:
Prepare rice in microwave or stove top, directions on back of label. 
In medium skillet, brown ground turkey over medium heat for 8 to 10 minutes or until beef is thoroughly cooked, stirring frequently. Drain and then add seasonings. In another skillet, caramelize onions on medium heat for about 10 minutes.
Prepare lettuce, tomato, black olives, avocados, salsa and cilantro. Chop into pieces that will fit well into a taco.
Add cilantro to yogurt and heat up flour tortillas in microwave or oven if you wish. 
To assemble tacos, layer turkey, cheese, lettuce and tomatoes in each taco shell. Serve with salsa; top with cilantro yogurt.
Interested in learning more about nutrition and health? Call the Wellness Center at 255-4444 and schedule an appointment one of our dietitians, Alyssa Shrader, Merri Metcalfe or Yuka Sanui.