Turkey Quinoa Meatloaf (GF)
Turkey Quinoa Meatloaf (GF)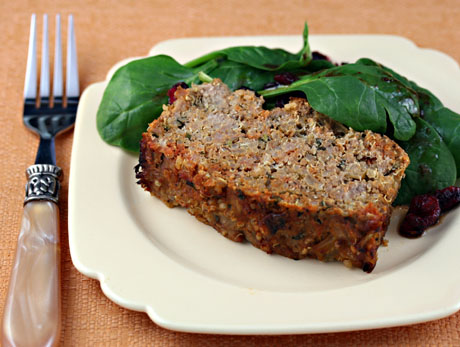 Turkey Quinoa Meatloaf (GF) - Download Recipe

Cooking Time: 20 mins Serving Size: 2 slices Serves: 4-6
Calories: 202 Fat: 11g Carbohydrate: 11g Protein: 17g
Ingredients:
2 TBS olive oil
1 large onion, finely chopped
1 medium jalepeno, seeded & chopped
1 TBS ground cumin
1-1.5 cups cooked quinoa
1 lb 93/7 ground turkey
2 TBS tomato paste
1 TBS tomato ketchup
1 large egg
1 tsp salt
1 tsp black pepper
Directions:
Use leftover pre-made quinoa or cook quinoa (1/2 cup dry quinoa with 1 cup of water… bring to a boil and reduce to a simmer for 15 minutes until water is absorbed and quinoa can be fluffed with a fork)
Preheat oven to 375. Coat a small loaf pan with cooking spray In a small skillet pan, heat the olive oil over medium heat. Add the onion and jalepeno to the pan, stirring frequently until onion is soft. Stir in the cumin and cook for one minute. Remove from heat.
In a large mixing bowl, combine the onion mixture with the remaining ingredients. Mix thoroughly, and transfer to the loaf pan. Bake for 60 minutes. Turn the oven off, let meatloaf rest for 10 minutes. Remove from oven, allow it to cool for 5 minutes before slicing and serving.
Serve with a side salad or steamed/roasted vegetables.