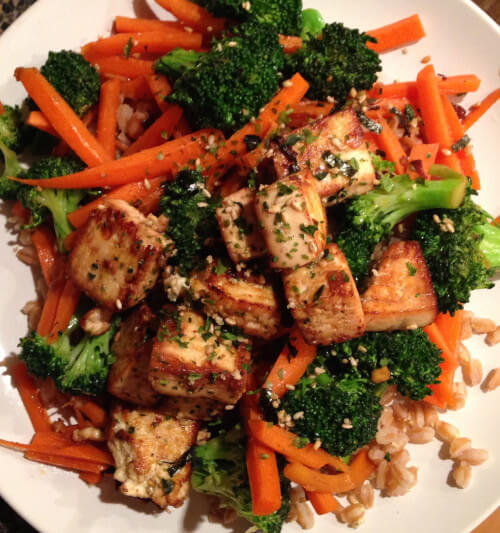 Tofu Stir-fry! - Download Recipe
Serves: 4
Calories: 375 Fat: 25g Carbohydrate: 25g Protein: 15g
Ingredients:
1 14oz package of extra-firm tofu
2 TBS olive oil or coconut oil
2 cups chopped broccoli or asparagus
1 cup carrots (use a peeler to make long thin strips!) or slice into thin rounds
3 green onions, minced
Sauce:
3 cloves minced garlic
2 TBS fresh ginger, minced
2 TBS honey (agave or brown sugar for vegan)
1/2 cup low sodium soy sauce
1/4 cup water
1/4 cup rice wine vinegar
1/4 cup sesame oil
Directions:
Sauce: Blend ingredients together in blender or with whisk, may help to
heat up in a saucepan
Tofu: Cut tofu into slices and press with a paper towel to remove moisture. It may help to have a plate on top to really squeeze out the water! Dehydrate for up to 30 minutes. Slice into cubes. Heat oil over medium heat; add tofu, 1/4 cup of the sauce, and a dash of chili powder. Sauté on each side for 5-7 minutes until browned and crispy. Remove from pan; pat with paper towel.
Veggies: Add broccoli to pan with 1/4 cup more sauce until bright
green. Add carrots and toss together. Arrange veggies and tofu over cooked rice (GF) or farro wheat and sprinkle with green onions