Thai Peanut Ramen Soup (V)
Thai Peanut Ramen Soup (V)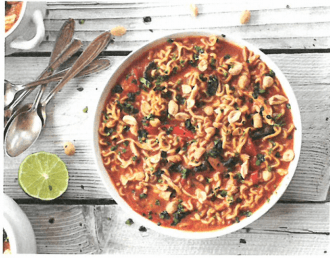 Thai Peanut Ramen Noodle Soup - Download Recipe
Ingredients:
Serves 4
2 packages Ramen noodles
1 1/2 Tbsps. Vegetable Oil
1 can Mixed Vegetables
1/4 cup Teriyaki or Soy Sauce
2 Tbsps. Hot Water
3 Tbsps. Chunky Peanut Butter
1/4 Tsp. Sriracha or any Hot Sauce
Ginger, Garlic Powder, Onion Powder, if desired
Lime wedge on side if desired
Directions:
In a medium saucepan, bring water to a boil and cook Ramen noodles according to package.
Meanwhile, in a large skillet over medium-high heat, add oil, canned vegetables, and reserved flavor packets and cook until warm and cooked through, about 3 minutes. Remove from heat and add noodles to skillet
Whisk together teriyaki or soy sauce, hot water, peanut butter, and sriracha; toss with noodles and vegetable mixture. Sprinkle each serving with green onion and lime, if desired.
Interested in learning more about nutrition and health? Call the Wellness Center at 255-4444 and schedule an appointment one of our dietitians, Alyssa Shrader, Merri Metcalfe or Yuka Sanui.