Sweet Potato Black Bean Enchiladas (V, GF)
Sweet Potato Black Bean Enchiladas (V, GF)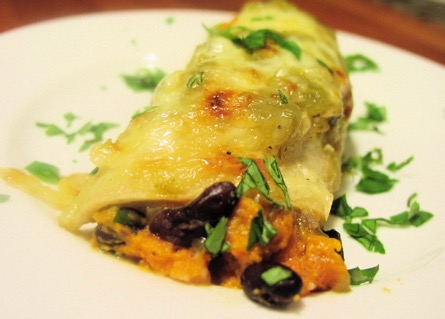 Sweet Potato Black Bean Enchiladas with Green Sauce (GF) - Download Recipe
Cooking Time: 30 mins Serving Size: 1 enchilada Serves: 4
Calories: 376 Fat: 4g Carbohydrate: 73 g Protein: 12 g
Ingredients:
1 can GF green enchilada sauce
1 15 oz can black beans rinsed & drained
Juice from 1 lime
2 cups cooked sweet potatoes, smashed a little bit
1/2 cup diced green chiles
1/2 tsp cumin
1/2 tsp chili powder
Salt and pepper to taste
2 TBS chopped cilantro
Corn tortillas
Directions:
Peel and cube sweet potatoes. Cook sweet potatoes in a pot of boiling water, enough to cover the cubes, for 12 minutes.
Preheat oven to 350º. Choose glass baking dish that holds 8 enchilada.
In a mixing bowl, combine the drained black beans with minced garlic and lime juice. Toss to coat the beans. Set aside.
In a separate bowl, combine the lightly smashed sweet potatoes with the green chiles, add the spices.
Pour about half of the enchilada sauce in the bottom of the baking dish. Grab a skillet and lightly cook the corn tortillas to soften them.
Place tortilla in baking dish. Add sweet potato and black bean mixture to the center in a line, wrap and roll the tortilla to the end of the baking dish. Repeat. Top with remaining sauce.
Bake for 20-25 minutes. Top with cilantro or green onion as desired.