Spinach Artichoke Stuffed Chicken
Spinach Artichoke Stuffed Chicken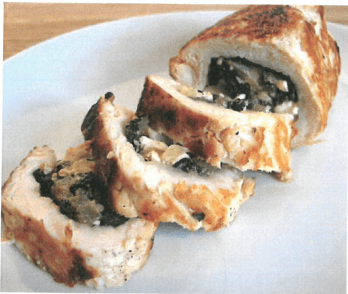 Spinach Artichoke Stuffed Chicken - Download Recipe
Ingredients:
Serves 6
2 Tbsp. olive oil, divided
8 oz. bag baby spinach, chopped
2-3 cloves garlic, minced, divided
4 oz. cream cheese, room temperature
6 oz. plain Greek yogurt
1 large egg
6.5 oz. jar marinated artichoke hearts
1/2 tsp. coarse salt + more for chicken
1/4 tsp. ground black pepper + more for chicken
1/4 tsp. onion powder
1/4 tsp. garlic powder
Pinch red pepper flakes
1/4 cup shredded mozzarella cheese
1/4 cup shredded Parmesan cheese
2 lbs. boneless skinless chicken breasts
1 medium lemon, sliced + wedges for serving
Italian parsley, chopped (optional)
Directions:
Heat 1 Tbsp. olive oil in a large cast iron skillet or nonstick skillet to medium-high heat. Add spinach and cook until wilted. Add half the garlic and saute 30-60 seconds, until fragrant. Remove from heat.
Preheat the oven to 350 degrees.
In the bowl of a stand mixer, add cream cheese and whip for 30-60 seconds, until creamy. While running, add Greek yogurt, egg, chopped artichoke hearts, 1 Tbsp. Artichoke marinade, remaining minced garlic, 1/2 tsp. salt, 1/4 black pepper and a pinch of red pepper flakes. Whip in Italian cheeses, Parmesan and cooked spinach, until combined.
Place chicken breasts on a large cutting board. Using a sharp knife, cut a pocket starting at the thickest point of each chicken breast, cutting about 3/4 of the way through.
Spoon about 3-4 Tbsp. of spinach artichoke dip into pocket of each chicken breast, packing it in as much as possible. Season both sides of the chicken with salt, pepper, onion powder, and garlic powder.
Cover a baking sheet with olive oil. Place the stuffed chicken breasts on the oiled sheets for baking. Cook at 350 degrees for 45 minutes, or until chicken is no longer pink and reaches a temperature of 165 degrees on the inside.
Sprinkle with parsley, if using, and serve with lemon wedges
Interested in learning more about nutrition and health? Call the Wellness Center at 255-4444 and schedule an appointment one of our dietitians, Alyssa Shrader, Merri Metcalfe or Yuka Sanui.