Spicy Chicken Tacos w/ Garlic Cilantro Lime Slaw
Spicy Chicken Tacos w/ Garlic Cilantro Lime Slaw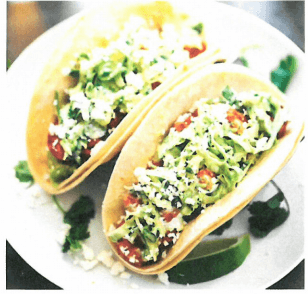 Spicy Chicken Tacos with Garlic Cilantro Lime Slaw - Download Recipe
Ingredients:
Serves 4 (2 tacos each)
For the Garlic Cilantro Lime Slaw
1/4 cup oil
1/4 cup water
1/2 cup chopped green onions
1/2 cup cilantro leaves
2-3 cloves garlic
1/2 teaspoon salt
juice of 2 limes
1/2 cup sour cream
For the Chicken Tacos
2 chicken breasts
1 teaspoon each chili powder, cumin, and southwestern seasoning
1/4 teaspoon cayenne pepper
2-3 cups shredded green cabbage
8 small flour tortillas
1 Avocado
Cotija cheese and additional cilantro
Directions:
Pulse all the sauce ingredients except the sour cream in a food processor. When mostly smooth, add the sour cream and pulse until combined. Taste and adjust as needed. Set aside.
Heat a drizzle of oil a large skillet over medium high heat. Pat the chicken dry with paper towels and sprinkle the spices. Ad the chicken to the hot pan and saute for 10 minutes, flipping occasionally, until the chicken is cooked through.
Toss some of the sauce (not all) with the cabbage until the cabbage is coated to your liking. It should resemble a coleslaw - you want it to be enough sauce so the cabbage is weighed down a little bit.
To serve tacos, smash a spoonful of avocado on the tortillas, top with a few pieces of chicken, top with coleslaw, and finish with Cotija cheese, cilantro, and lime wedges
Interested in learning more about nutrition and health? Call the Wellness Center at 255-4444 and schedule an appointment one of our dietitians, Alyssa Shrader, Merri Metcalfe or Yuka Sanui.