Spaghetti Squash with Homemade Tomato Sauce & Sautéed Greens (V, GF)
Spaghetti Squash with Homemade Tomato Sauce & Sautéed Greens (V, GF)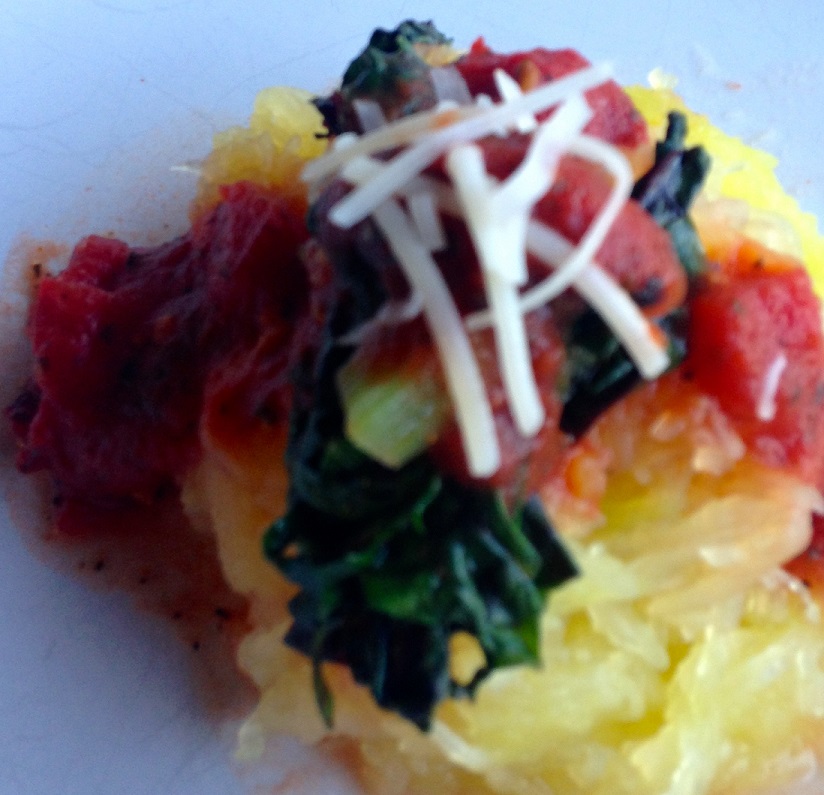 Spaghetti Squash Pasta with Homemade Tomato Sauce & Sautéed Greens - Download Recipe
Total Time: 1 hr Serves: 4-6 Serving Size: 2 cups spaghetti squash, 1 cup sauce
Calories: 200 Fat: 4g Carbohydrate: 27g Protein: 3g
Ingredients:
1 medium spaghetti squash
1.5 TBS extra virgin olive oil
1/2 onion, diced
3 cloves garlic, minced
1 (28 oz) can crushed tomatoes
3/4 cup water
1 tsp dried basil
1/2 tsp dried fennel
1 tsp dried parsley
1/2 tsp salt
3 cup chopped greens
salt, pepper, and chili pepper flakes to taste
Directions:
Squash:
Preheat oven to 400º. Wash the squash and leave it wet, microwave it for 1 minute to help soften the skin. Cut squash lengthwise in half and remove seeds with a spoon. Drizzle some olive oil on the insides and put halves face up in a baking dish or baking sheet and bake for 45 minutes. When finished, let cool and drain any excess liquid. Scrape out the squash with a fork and put in a bowl with pinch of salt and pepper, and a tsp of olive oil.
Sauce:
Heat olive oil in a large pot when there is about 15 minutes left on the squash. Sauté garlic and onion until fragrant and translucent. Add the other ingredients and bring to a boil, cover, and reduce heat. Simmer for 25-30 minutes. Makes about 4 cups. Store extras in a glass tupperware or mason jar (can be frozen)
Greens:
In a large skillet over medium heat, pour olive oil and add greens, stirring 5-7 minutes or until wilted. Add sauce to greens and pour on top of plated spaghetti squash.