Ground Turkey Zucchini Meatballs (GF)
Ground Turkey Zucchini Meatballs (GF)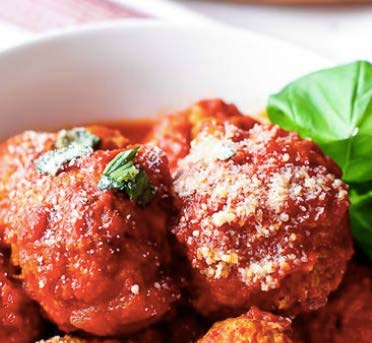 Turkey Zucchini Meatballs (GF) - Download Recipe
Cooking Time: 20 mins Serving Size: 4 oz Serves: 4
Calories: 218 Fat: 10g Carbohydrate: 5g Protein: 24g
Ingredients:
1 lb ground turkey (93/7)
1 egg
1 cup zucchini, shredded
1/3 whole wheat bread crumbs or panko crumbs (to make GF use GF bread crumbs)
1/3 cup mozzarella cheese
1 TBS Italian seasoning or 1 tsp each of basil, oregano, thyme, & marjoram
Directions:
Preheat oven to 350º. Shred or grate zucchini and squeeze out any excess moisture with a paper towel or cheesecloth. In a large mixing bowl add all the ingredients and mix with hands until well combined. Form into desired sized meatballs (try and make them all the same
size!) Serve in tomato sauce.
Cooking Options:
Place on a baking sheet about 2 inches apart from each other. Bake for about 15-20 minutes depending on the size of each meatball.
Brown each meatball in a large skillet for about 1 minute per side, and transfer to a crockpot with tomato sauce. Cook on low for 4-6 hours.