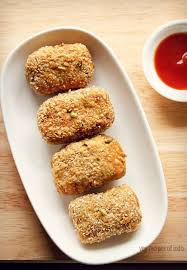 Tofu and Veggie Nuggets - Download Recipe
Ingredients:
Makes about 20 nuggets
2 12 oz package tofu, extra firm
1⁄2 carrots
1 medium squash
2 tbsp green onions
1⁄2 medium onion
1 clove garlic
1 egg
1 tbsp soy sauce
Salt and pepper
Panko breadcrumbs
Directions:
Remove excess water from the tofu by wrapping the tofu in paper towels and place a heavy object on top. Let drain for 10 minutes. See notes.
Mince carrots, squash, green onions, onions, and garlic into tiny pieces. Use food processor if needed.
In a large bowl, combine drained tofu, vegetables, egg, and soy sauce and mix with your hands. If the mixture is not sticking together, add 1 tbsp of breadcrumbs at a time until the mixture is firm.
Shape the mixture into nuggets or any shape you prefer.
Note: There are other ways to drain tofu
Microwave for about 3 minutes and let drain
Freeze tofu and thaw. Let drain.
Interested in learning more about nutrition and health? Call the Wellness Center at 719-255-4444 and schedule an appointment with one of our dietitians.