Plant based mac n' cheese - vegan, vegetarian, can be gluten free if used GF pasta
Plant Based Mac n' Cheese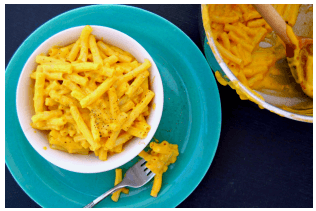 Plant-Based Mac n' Cheese - Download Recipe
Ingredients:
4 servings
1½ cup potatoes, peeled and chopped
1 cup carrots, chopped
½ cup diced yellow onion
1 tsp turmeric
3 garlic cloves, peeled and left whole
2½ cup raw cashews, soaked in water for 10 minutes
½ cup nutritional yeast
Pasta of your choice
Directions:
Place the potato, carrot, onion, turmeric and garlic in a medium-sized pot, cover with 2 cups of water and simmer for 20 minutes, with the lid on.
After 20 minutes, add the veggies (and the remaining liquid in the pot) to your blender.
Drain the cashews (discard the water) and add the cashews to the blender, along with the nutritional yeast, salt, and the additional ½ cup of water.
Blend until the sauce is creamy and smooth, about 2 minutes.
Cook the pasta according to the directions on the package and then strain and rise with cold water to stop it from cooking. Return to the pot.
Turn the heat to very low and pour as much cheesy sauce over the pasta as you like.
Add black pepper and salt to taste.
Interested in learning more about nutrition and health? Call the Wellness Center at 719-255-4444 and schedule an appointment with one of our dietitians.