Easy Microwave Breakfast Bowl
Easy Microwave Breakfast Bowl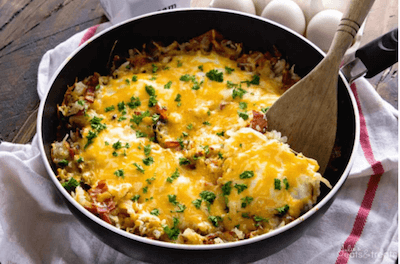 Easy Microwave Breakfast Bowl - Download the Recipe
Ingredients
1 serving
1 large potatoes, diced
2 tbsp carrots, diced
2 tbsp broccoli, sliced
2 tbsp bell peppers, sliced
2 eggs
1 tbsp milk
1 oz cheddar cheese, shredded
Pinch of salt and pepper
Directions:
Dice potatoes and carrots. Smaller it is, faster it will cook in the microwave. Transfer into a microwave safe bowl and coat with salt, and pepper.
. Place a wet paper towel on top of the potatoes. Microwave until inside is soft when you pierce with a fork. About 5-7 minutes. Caution: it is hot when you take out of the microwave!
Meanwhile, dice all the vegetables.
Coat a microwave safe bowl or ramekin with cooking spray or butter. Add eggs, mushroom, carrots, milk, salt and pepper, and mix until well combined.
Microwave on high for 30 seconds. Take them out and mix. Repeat until eggs are fully cooked
Lay the scrambled eggs on top of cooked potatoes. Sprinkle cheese on top and microwave until the cheese is fully melted.
Sprinkle some chives or basil or any other herbs that you have in hand. Enjoy!
You can easily make this with any veggies you have in hand! Make sure that with root vegetables (such as potatoes, carrots, beets, etc.) it will take a bit longer to cook in the microwave, so cook them first! Other vegetable ideas include spinach, tomatoes, olives, or even some chile to make it spicy!!