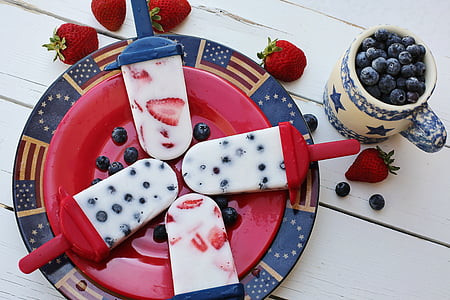 Do it Yourself Popsicles - Download Recipe
Minty Watermelon:
Ingredients:
3 cups of watermelon slices
1 tablespoon of fresh mint leaves
1 ½ cups of coconut water
2 tablespoons of lime juice
1 tablespoon of honey
Instructions:
Puree diced watermelon pieces, mint leaves, coconut water, lime juice and honey.
Evenly divide mixture into the molds and insert the popsicle sticks.
Freeze for at least 6 hours.
Blackberry Lemon:
Ingredients:
⅔ cup of lemon juice
2 ½ cups of vanilla greek yogurt
2 ½ cups of mixed berry greek yogurt
2 ½ cups of blackberries (fresh or frozen)
Instructions:
Whisk together the lemon juice and vanilla yogurt.
Puree blackberries and mixed berry yogurt
Alternate layers by adding 1 tablespoon of lemon mixture and 1 tablespoon of blackberry mixture.
Let the molds freeze for at least 6 hours.