Black Cherry Sorbet
Ingredients - Yields 4 servings: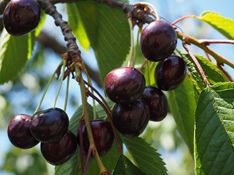 2 pounds of frozen, pitted cherries

1 cup of water

½ cup of maple syrup or honey

Lime juice (from 1 lime)
Directions:
Place all ingredients into a blender or food processor and blend until smooth

Enjoy! Or, store in an airtight container in the freezer.  Can be stored in the freezer for up to a month!