Sweet Potato Banana Cookies
Sweet Potato Banana Cookies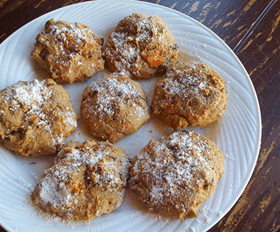 Sweet Potato Banana Cookies - Download Recipe
Ingredients:
1 small banana or ½ of a large banana
1 sweet potato
½ cup of oats
¼ cup of whole wheat flour
1 tablespoon of brown sugar
1 teaspoon of cinnamon
Instructions:
Peel and chop the potato. Boil until soft (10-15 minutes)
Preheat oven to 375 degrees.
While potato is boiling, in a bowl mix together dry ingredients (oats, flour, sugar, cinnamon).
Mash potato with a potato masher when in a separate bowl. Once potato is mashed, add in banana and mash that as well. Mix together.
Mix dry ingredients in with the potato and banana.
Scoop dough into small amounts and roll into ball.
Place on baking pan and push the ball down with a fork.
Bake for 20 minutes.
Enjoy!