Baked Salmon w/ Apple and Walnut Salad (GF)
Baked Salmon w/ Apple and Walnut Salad (GF)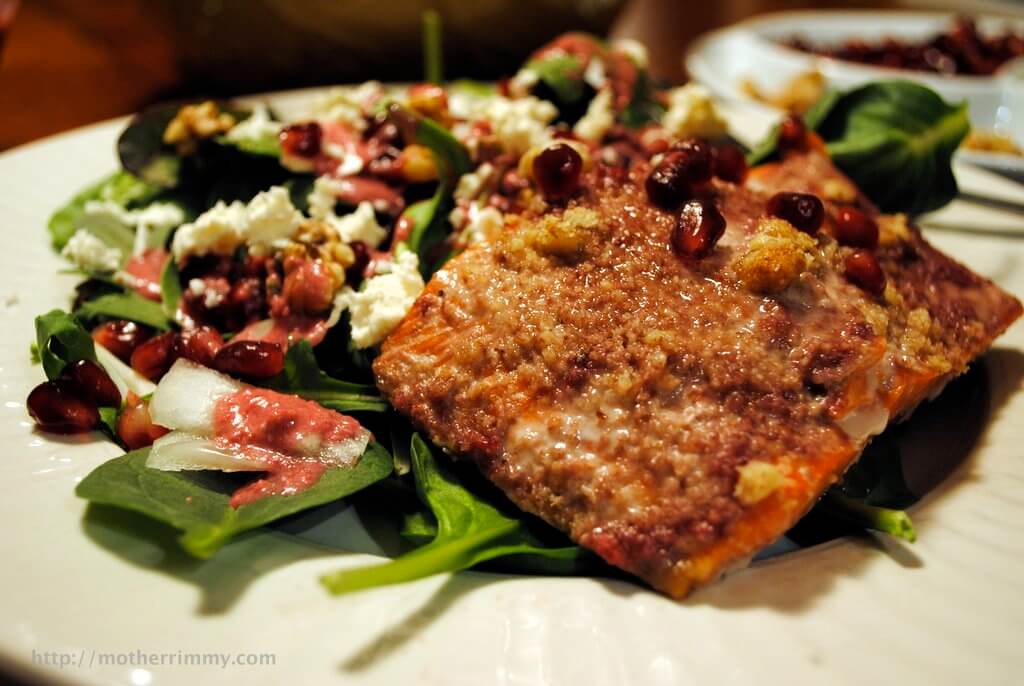 Baked Salmon with Apple and Walnut Salad - Download Recipe
Ingredients for Salmon with Apple and Walnut Spinach Salad: Makes about 4 servings

Calories: 420 Fat: 23g Saturated Fat: 4g Monounsaturated Fat: 10g Polyunsaturated Fat: 7g Carbohydrate: 15g Protein: 44g
Ingredients:
1/4 cup toasted walnuts, divided
squash
2.5 Tbsps. extra-virgin olive oil, divided
1 oz. grated fresh parmesan cheese
1.5 Tbsps. fresh lemon juice
1 Tbsp. white balsamic vinegar
2 tsp honey
2 tsp Dijon mustard
1 tsp water
3 cloves minced fresh garlic
1/2 tsp salt, divided
4 (6oz.) salmon fillets (about 1 in. thick)
1/4 tsp pepper
8 cups mixed greens (kale, spinach)
1 cup thinly sliced seasonal apples
Directions:
Preheat oven to 400 degrees F
Combine 2 Tbsps. chopped walnuts, 2 Tbsp. olive oil, 2 Tbsp cheese, lemon juice, white vinegar, honey, Dijon mustard, and water into a small bowl. Add garlic and 1/4 tsp salt. Stir with a whisk
Line baking sheet with aluminum foil and lightly oil. Place salmon on baking sheet and rub salmon with remaining oil, salt, and pepper. Cook for 10-15 minutes depending on thickness of fillet
Comine greens and apple in large bowl. Slowly add dressing and toss until greens are lightly coated. Sprinkle remaining cheese and nuts on top of salad. Drizzle fillets with remaining dressing.