Overnight Oats-Cookie Dough Flavored
Overnight Oats-Cookie Dough Flavored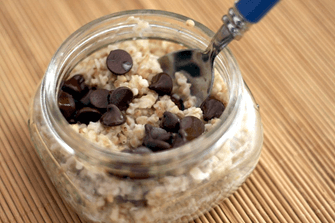 Overnight Oats-Cookie Dough Flavored - Download Recipe
Ingredients:
1 cup of rolled oats
¾ cup of milk of your choice
½ cup of plain Greek yogurt
2 tablespoons of almond butter
2 tablespoons of coconut sugar or brown sugar (can also substitute with honey or maple syrup)
2 tablespoons of dark chocolate chips
1 teaspoon of vanilla extract
A pinch of salt
Directions:
Combine ingredients into a medium bowl and mix.
Evenly divide the mixture into two mason jars or cups with lids and cover.
Refrigerate overnight or for at least 8 hours.
Enjoy!