Sweet Potato Pecan Rounds, (Veg, GF)
Sweet Potato Pecan Rounds, (Veg, GF)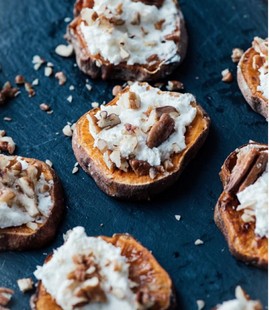 3 Ingredient Sweet Potato Pecan Rounds - Download Recipe
Vegan, Gluten Free
Ingredients:
3 large sweet potatoes

Whipped cream cheese

Roughly chopped toasted pecans

Olive oil

Salt/pepper
Directions:
Wash and dry sweet potatoes, then slice into disks about ½ inch thick and transfer to a large sheet tray. Toss with olive oil and salt and pepper.

Roast at 375°F oven for 40 minutes, taking them out and flipping them halfway through, until they're soft and golden brown in places.

Cool slightly, then spread each one with 1 teaspoon whipped cream cheese at room temperature.

Sprinkle with pecans and enjoy!
If you want to do some prep in advance: Roast sweet potato rounds up to 2 days in advance and store in an airtight container in the fridge. To serve, reheat sweet potatoes on a sheet tray in a 400°F oven for 5 to 8 minutes, then top and serve.
Retrieved from: here