Easy Egg Muffin (Veg, GF)
Easy Egg Muffin (Veg, GF)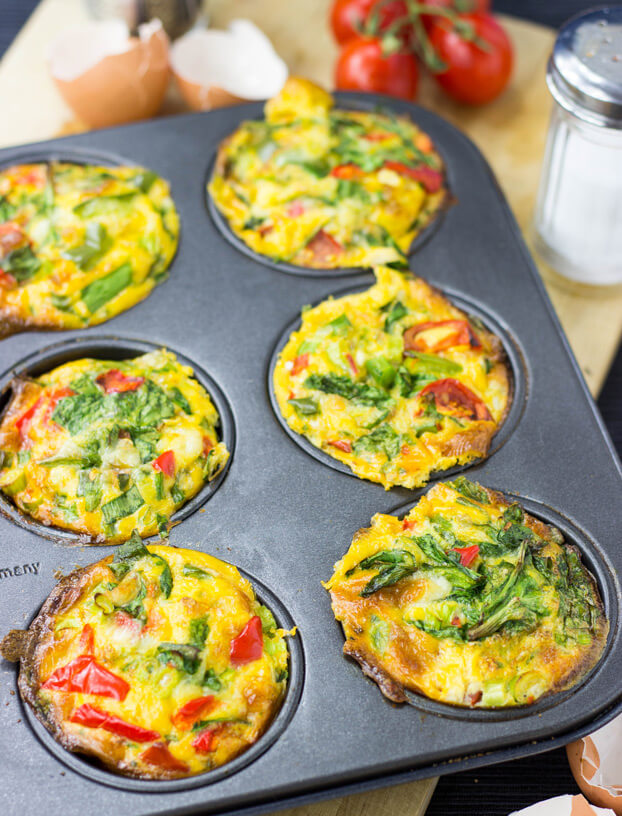 Easy Egg Muffins (Veg, GF)
Ingredients:
Servings: 6 (2 muffins per person)
6 eggs, whisked
½ cup milk
salt and pepper
1 cup shredded cheese
¼ cup red bell pepper, chopped
¼ cup spinach, shredded
2 Tbsp. red onion, chopped
Nutritional info (per serving): Calories: 160 kcal, Fat: 11 g, Protein: 11 g, Carbohydrate: 3 g, Fiber: 0 g, Sodium: 119 mg
Directions:
Preheat oven to 350°F. Spray muffin tins with cooking spray.

Chop red pepper, spinach and red onion. Sauté in olive oil over medium heat.

Whisk eggs in a large bowl with milk, salt and pepper.

Evenly divide sautéed veggies in muffin tins. Then pour eggs on top, dividing evenly. Sprinkle cheese on top.

Place in oven and bake for 25 minutes or until firm.

Remove from oven and let cool for 2-3 minutes before removing from muffin tin. Serve warm or transfer to cutting board to cool completely. Store in refrigerator for up to 1 week.

Reheat in microwave.