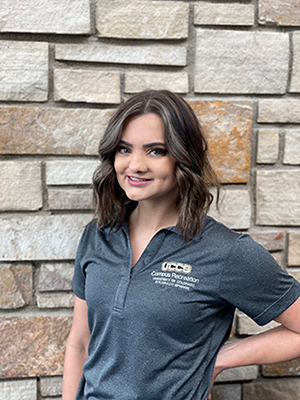 Fitness Program Coordinator
UCCS Campus Recreation
Gallogly Recreation & Wellness Center
1420 Austin Bluffs Parkway
Colorado Springs, CO 80918
Job Responsibilities
I manage the Campus Recreation Fitness Program! I oversee the fitness team - all our wonderful personal trainers and group fitness instructors. I help with student development - teaching certification courses and coordinating educational fitness workshops.
I Can Help You With
Getting certified to be a group fitness instructor or personal trainer, registering for group fitness classes or progressive training programs, getting set up with a personal trainer, and general fitness related inquiries.
Hobbies
I enjoy taking road trips with my husband, exploring national parks, paddleboarding, rock climbing, and hiking in my free time. I love spoiling my dog Koda (he loves going to Fox Run and Bear Creek Dog Park, and getting a Puppy Pattie from In and Out after). I enjoy lifting weights and plan to compete in Body Building in the near future.
Education
B.A. Health and Exercise Science | May 2021 | University of Colorado Colorado Springs